SHARE THIS ARTICLE
October 18, 2022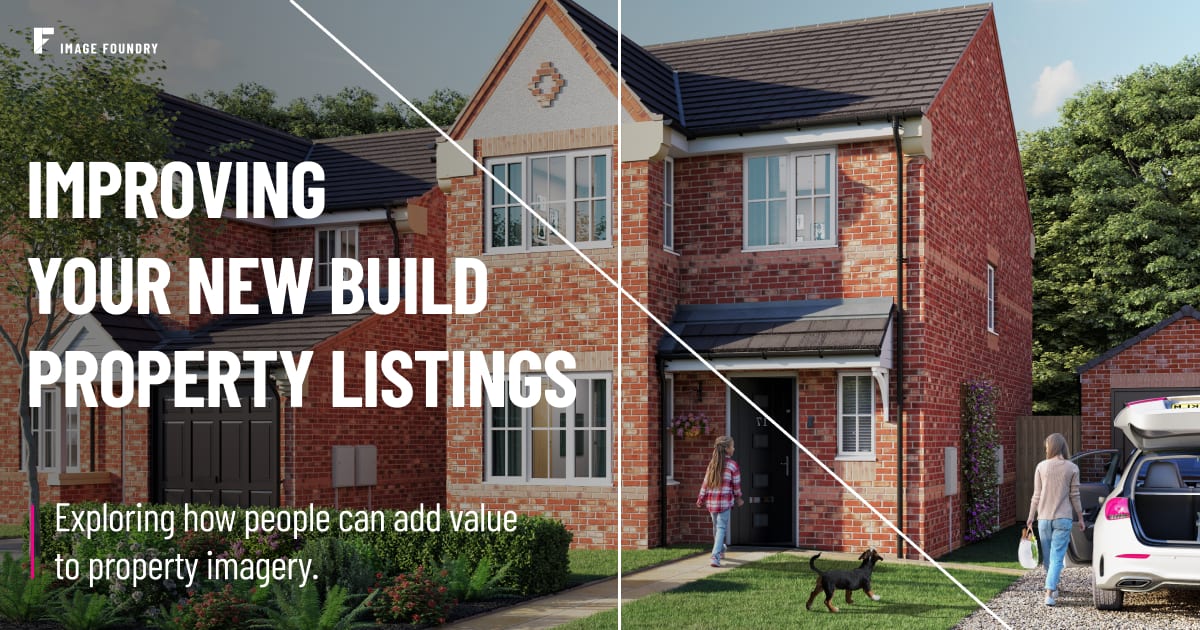 Here's a fact we discovered during our research: 87% of property CGI contains no people at all. In fact, most CGI doesn't contain other real life details either. Plain, sunny, exterior CGI rules the market and is the most basic image encountered when searching for new-build property.
So what's the point in adding people?
For one reason: because they help you increase property reservations and sales. These images should achieve more clicks on listings, more people exploring your property adverts on social media, and more people remembering your properties. According to our research, adding people to CGI can achieve these three objectives if done correctly – making them a valuable marketing asset.
This article explains why it's worthwhile, and offers practical solutions so that you can make the most of your property CGI.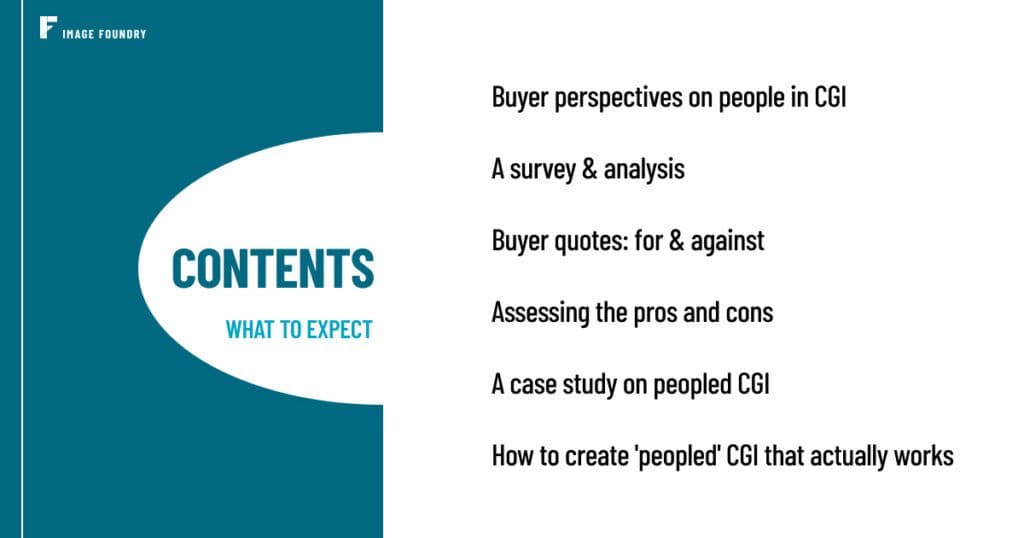 BUYER PERSPECTIVES ON CGI PEOPLE
We surveyed potential housebuyers to see what they thought of people in property CGI, and the results were divisive – these statistics helped us draw up a list of pros and cons, and create workable solutions to the problem. This was undertaken in partnership with Lancaster University who enabled us to accumulate relevant data from house-buyers.
We asked buyers three questions to get their perspectives on people in property images: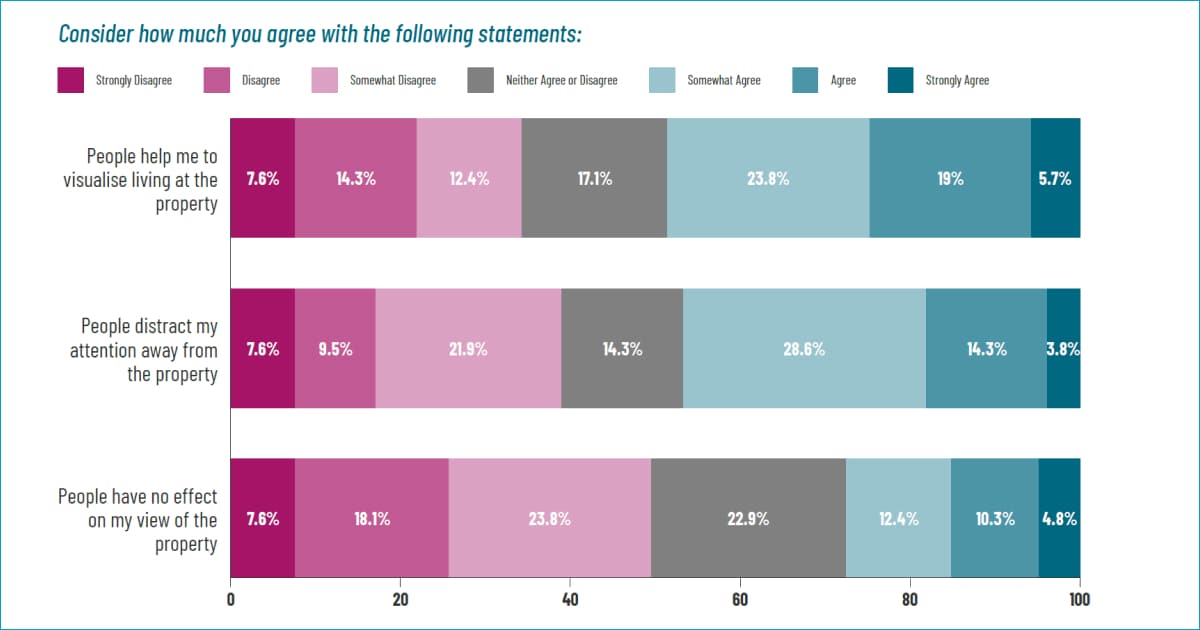 The headline results of our survey
People were an influential part of property CGI – controlling the way people thought about the image as a whole, meaning they are a key consideration. Buyers were not on the fence.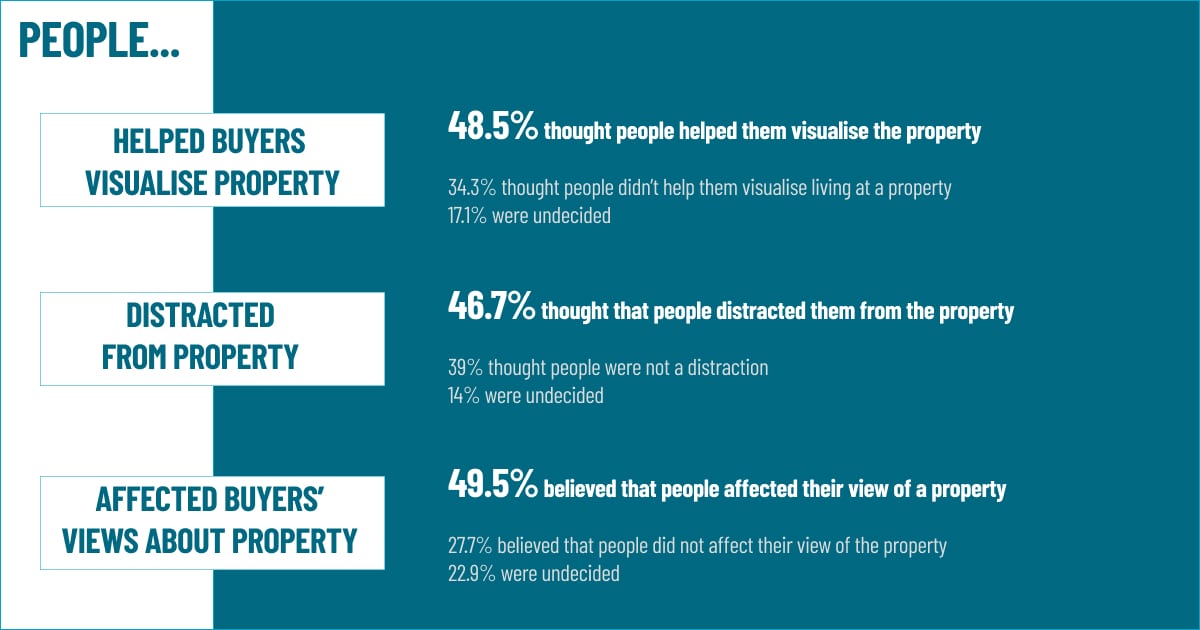 Buyer quotes: for & against
Opinions were greatly divided, with a large majority of people believing that – for better or worse – people affected their opinion of property CGI. However, subsequent interviews with house-buyers helped us to understand these statistics and create solutions that made peopled CGI not just divisive, but attractive.
Here are some buyer quotes for and against people in property images: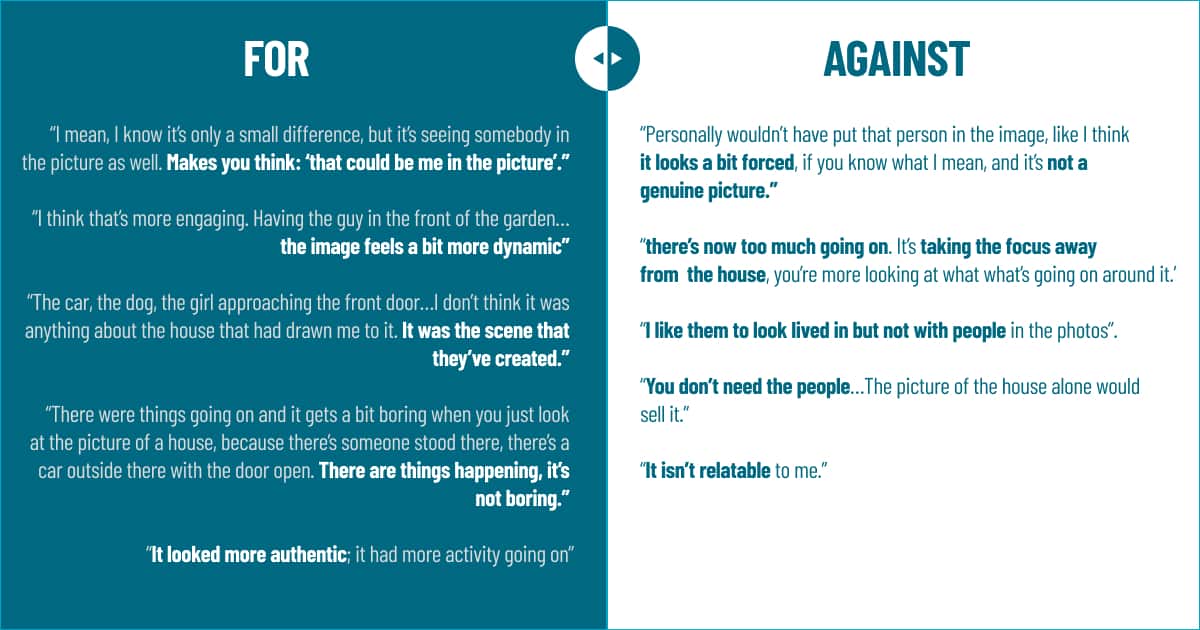 The buyer opinions reinforced the pros and cons introduced at the beginning of this article. However, it's important to explore how this balance of distraction/enhancement can be corrected so that property images with people can be used effectively.
**A more in-depth look at buyer preferences can be found in our new data, where this data is considered along other ways to prop images**

THE PROS & CONS OF ADDING PEOPLE
Property images aren't 'good' in their own right – but have different strengths according to your marketing objectives. Understanding where people fit in with the rest of your marketing content means you know exactly how to get the most out of them.
Pros:
They make your images more realistic
They help you target your audience
They help customers imagine your properties
They are an effective remarketing tool
They make your images more realistic
The one thing that stands out about most property CGI is how empty it is. This makes sense, perhaps, as the first image shown on a property listing – after all, people want an immediate impression of the property without any obstruction. However, what about when it comes to larger overviews of your development?
For example, street scenes showing only empty collections of houses begin to look fake and uncanny. It doesn't give any indication of the community that might inhabit that space – it's simply a collection of empty houses.
This isn't just boring – the lack of realism prevents people from being attracted to the property. This is a serious issue with new-builds in particular, because people already suspect that developers are simply trying to churn out as many houses as possible with little thought to quality or community.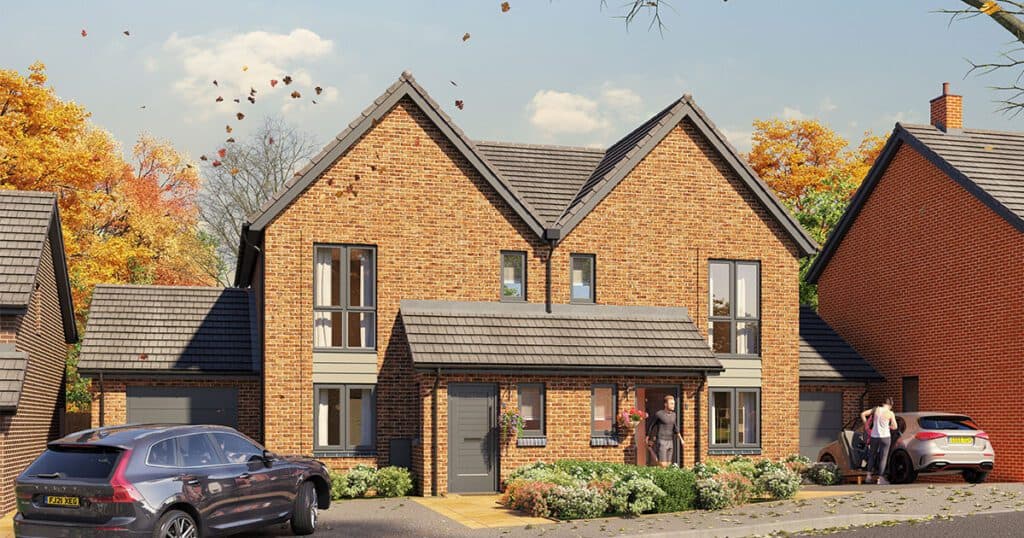 They help you target your audience
If you know your market, adding people is a highly effective way to tell potential customers: 'this property is made for people like you'.
For example, if you know you're selling 3 bedroom houses near a local school for under £250k – you'll probably want to target families to whom these properties would appeal most. A woman pushing a pram down the street or parents and children would be ideal to show in this context, especially when showing off whole streets or the broader development.
They help customers imagine your properties
The other side of realism is the importance of aspirational property images. Realism only goes so far.
For example, people actively don't want to see property CGI where bins are sitting on the drive, specs of tarmac litter the pavement or a few empty crisp packets are blowing about on the lawns.
People are one of the ways you can engage the imagination of your target market, and make your properties more appealing to them. They are an opportunity to show the kind of community you are trying to create with your development – and this goes beyond a random collection of empty houses. Bringing together realism and audience targeting, people can be placed in images to make your marketing imagery more persuasive.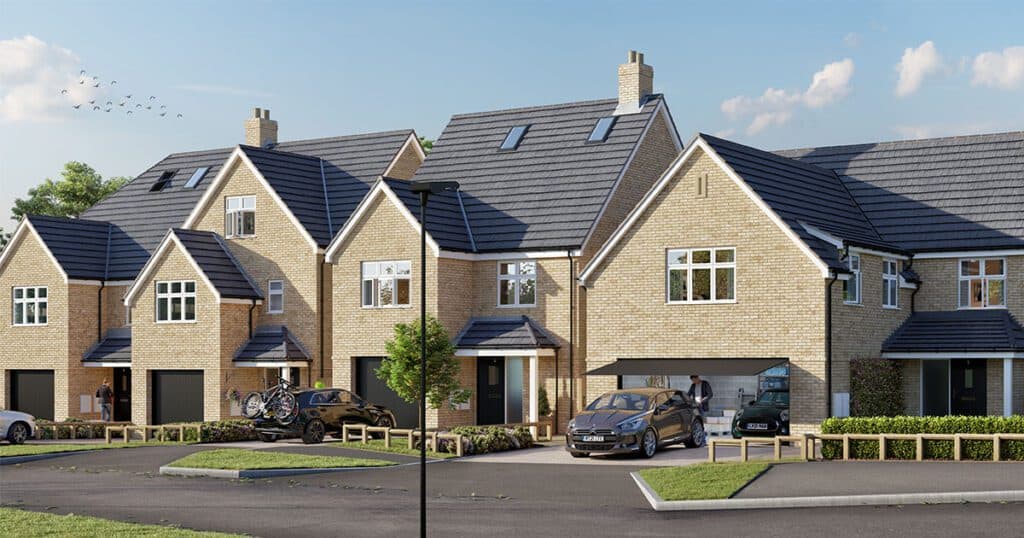 They are an effective remarketing tool
This is a critical point for property marketers. While peopled images may not suit the first image on listings, they are extremely valuable as a remarketing tool.
For example, if people have left your website and gone on Facebook – if you have tracking implemented you can market property again to these people – with the opportunity to show the property in a whole new light. Adding people is one way to do this.
The fresh use of imagery will engage them and help them to think once again about your properties, persuading them to revisit your site. Additionally, if people are browsing listings day after day, they filter out the images they have seen before. Your property will be ignored in this scenario and forgotten about. However, replacing your headline image with a propped image including people will attract people back – it jogs the memory and pushes them to reconsider your housing offer.
People are only part of the way you can remarket images – alongside adjusting scenery, time of day, altered angles and more.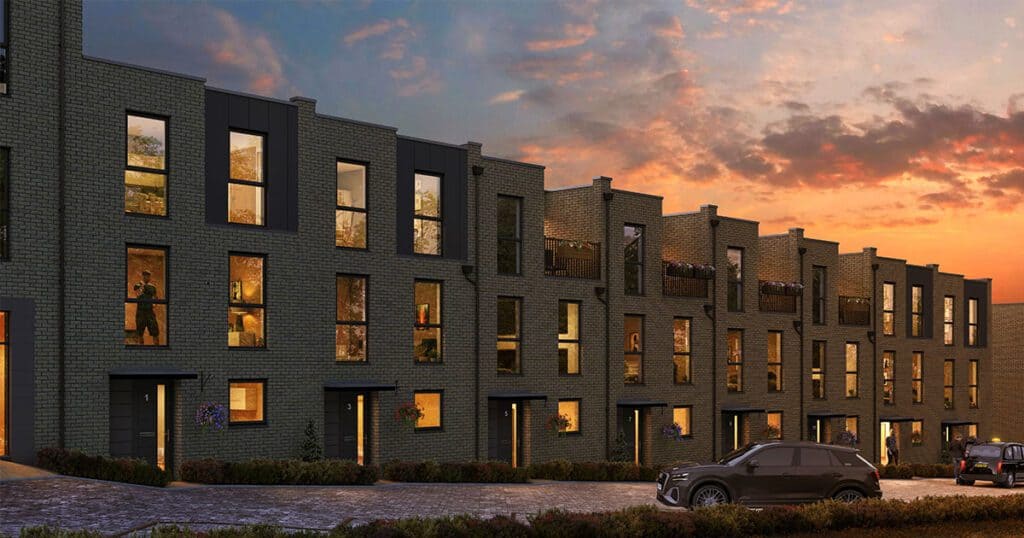 Cons:
They can be distracting
Lacking quality
Getting the demographic wrong
They can be distracting
The whole point of property CGI is that it attracts customers to the property and helps them to understand the look and feel of your homes. However, sometimes people are added to property CGI and end up drawing attention away from the property. Even if the people added are high-quality 3D models, it isn't worthwhile if they make the property look unappealing as a whole.For example, people may block features of the property that people want to see, end up placed at unnatural angles or simply draw attention away from the home.
Lacking quality
3D models of people may not look realistic enough, or simply fail to live up to the quality of the surrounding CGI – making them stand out rather than the property (and for the wrong reasons too). A related issue is that poorly propped CGI can look 'forced' – people need to sit seamlessly with the rest of the property and enhance it.
Getting the demographic wrong
People can be off-putting if they don't match the target market for the property. For example, showing a woman with a pushchair may put off single professionals because it communicates that they're not the target market. If done wrongly, adding people to CGI can have the opposite of the intended effect – not allowing customers to imagine themselves in a property because the people shown are unrelatable and miss your target market.

A REAL CASE STUDY: PUTTING 'PEOPLED' IMAGES TO THE TEST
We created a qualitative test for 50 home-buyers in partnership with Lancaster University. Buyers viewed a selection of new-build property CGI from several companies, and then we asked them which ones they remembered the most. 50% of these images were created by us and each one included people – These peopled images were 68% more likely to be recalled by buyers, and when presented as adverts, buyers were 22% more likely to click them than standard images.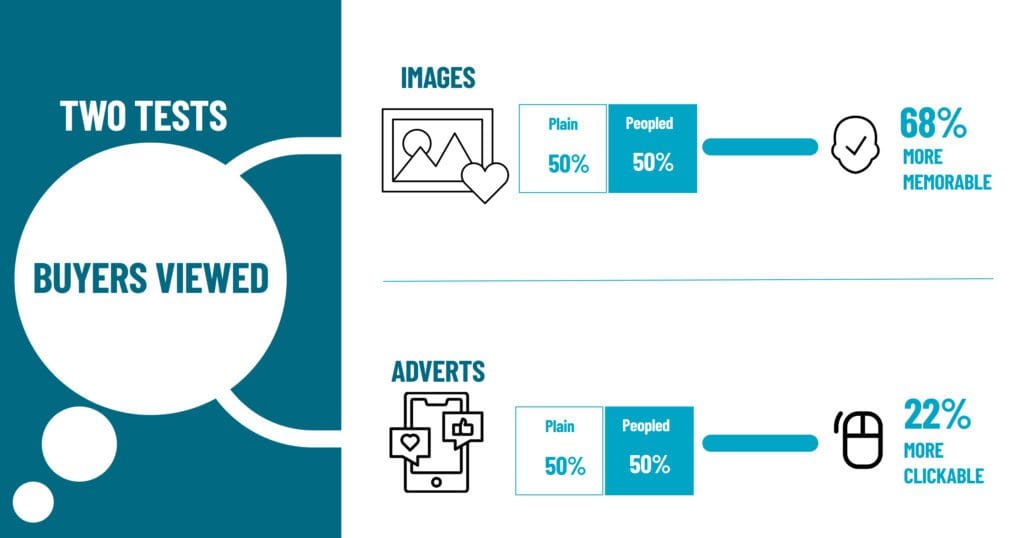 SOLUTIONS: HOW TO CREATE PEOPLED CGI THAT ACTUALLY WORKS
We want to outline helpful solutions we've been trialling at Image Foundry, which helped us achieve the kind of results outlined above. Here we answer the question 'what made our peopled CGI more appealing to buyers?'
Incorporating photography
One core issue faced by CGI suppliers is this: how can we make people look realistic enough to blend in with CGI scenery? Our creative team came up with a solution, in partnership with Refinery Photography – a local photography studio.
Of course, it's perfectly possible for high quality photography to capture real-life models. However, if property developers or product marketers need cheaper, more flexible imagery, they want to use CGI for their property images. Our solution was to combine the two mediums so our client got the best of both worlds. Our artists skillfully added photographed people to a CGI scene so that they blended in perfectly.
Learn about how we did this for our client Huntsman Building Solutions here – Marrying photography and CGI.
Creating a scene
"It wasn't anything in particular that drew me to the house…it was the scene they had created" – One house buyer we interviewed during our survey
Buyers commonly complained that people seemed out of place in CGI or jarred with the rest of the image. Some of this is due to the quality of the 3D models used, but even high-quality models put buyers off when added to an image carelessly. Our solution is to do more than just 'add people' – we do it only where it makes sense. People aren't the only key feature when it comes to building a scene – weather, time of day, lighting, camera angles and other props come together to make an image attractive and convincing.
Learn how we did this for Foreshaw's Clippers Quay development, with peopled, propped and cameo CGI – CGI Stills for Clipper's Quay Development
View how we included people in animations here: Lifestyle Dynamic Still/ View a 'pack' of CGI content we created for property marketing: Creative Pack – Private Dining – Foreshaw – Clippers Quay
Choosing context
Behind styling choices is a more fundamental issue: 'who does the image need to convince, and where will it be seen?'
This has an enormous influence on the kind of image that needs to be produced. As a first image on Zoopla listings, people aren't so important to add because buyers are most interested in the 'product shot' of the house. However, when it comes to a brochure cover or street scene, people become a more important addition. Why? Because these images intend to communicate the look and feel of a development – not just its physical features. Showing off a community of people inhabiting the development is a key way to do this.
As shown in our statistics earlier, people were 22% more likely to click on property adverts which included people. We've found out that adverts shown across Facebook and Instagram are the main places that developers need to make a more emotional appeal to buyers – and therefore we usually create propped and peopled images with this purpose in mind.
Learn how we did this for Rippon Homes in this case study – Research-led CGI for Property Brochures and Social Channels