Spring 2018 | Your interiors brought to life
Back
Alex Goron | 29.05.2018
Imagine creating your perfect vision in a 3D world. No painting walls. No back-breaking manoeuvres with heavy furniture. Sound like bliss? It is for our clients!
A problem we hear time and time again, "I have so many products and deciding which to shoot is almost impossible".
CGI has become the leading solution to this age-old problem. It is a blank canvas, your perfect client and enables you to move the direction of your business without actually having to find the space. From interior designers to product retailers alike, using a 3D world to bring your interiors vision to life has revolutionized marketing.
Someone who knows all about the joy of creative freedom is our stylist Laura. She's been giving us some tips on Spring trends for 2018 and why CGI works for her.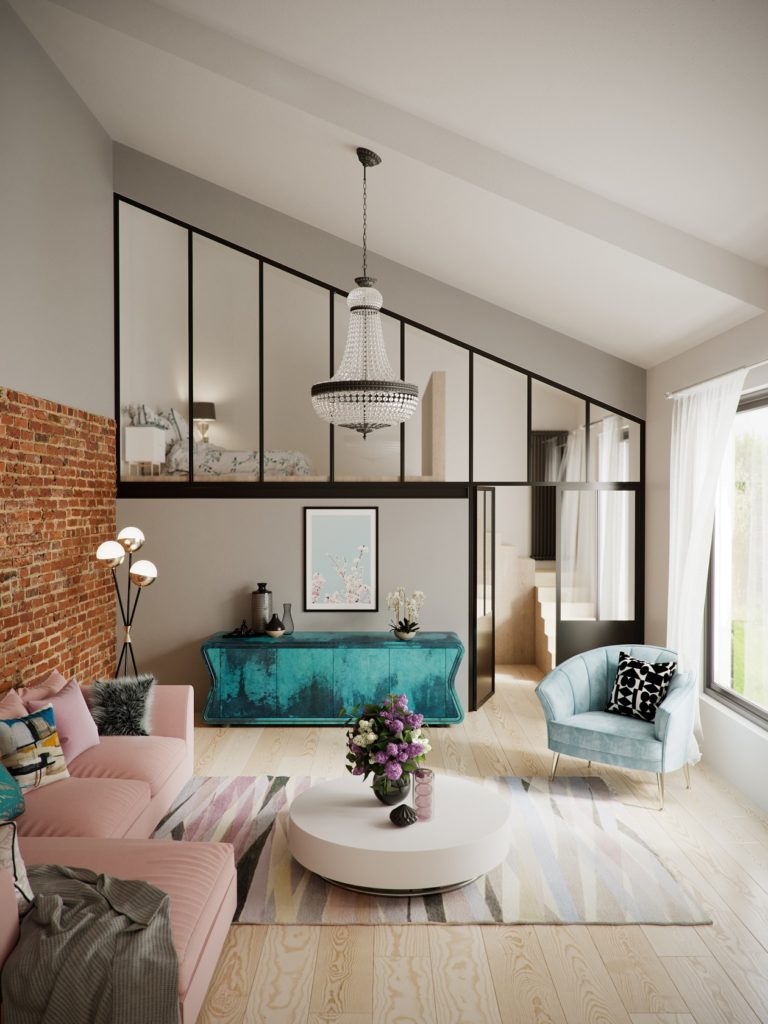 Our Spring 2018 shot.
Styled by Laura La Gambina
Produced by Martins Zeme
Here is a full shopping list for those who want to shop the look!
Coffee table – Cattelan Italia Arena, Sofa – Loaf Cuddlemuffin in Potters Pink, Sideboard – Deneuve Cabinet – Julian Chichester, Teal palm cushion – Drive – Lelievre – Bleu, Matthew Williamson Pegasus cushion, Geometric cushion – PATTERNITY and John Lewis, Rug – Carnival Pale by Paul Smith for The Rug Company, Paint cushion by Tom Dixon, Pink velvet cushion – H&M, Clear and pink Bump vase – Tom Dixon, Havana vase – Kelly Hoppen, Mesh bottle vase – Kelly Hoppen, Antonio Leo vase – Amara, Vase with cork base – Amara, Cherry Blossom No3 Poster – Desenio, Caracas Tripod floor lamp – Joanthan Adler, Empire Chandelier – Wayfair, Audrey Bedside table – West Elm, Aurelia bedding – M&S.
Spring trend guide with Laura La Gambina.
It feels like every year we are bombarded with endless lists of trends, colours and themes. What will actually work for you? Can it be implemented on a budget? We spoke to our in-house stylist Laura to get the answers to all your burning questions!
What are your 3 key trends for Spring Interiors 2018?
Cute gelato pastels.
Cool colour palette including powder blues, indigos and turquoises.
Strong geometric prints (with a hint of metallic but that's 4!).
I wanted to show how you can use all of these elements together in one very cool and inspiring space.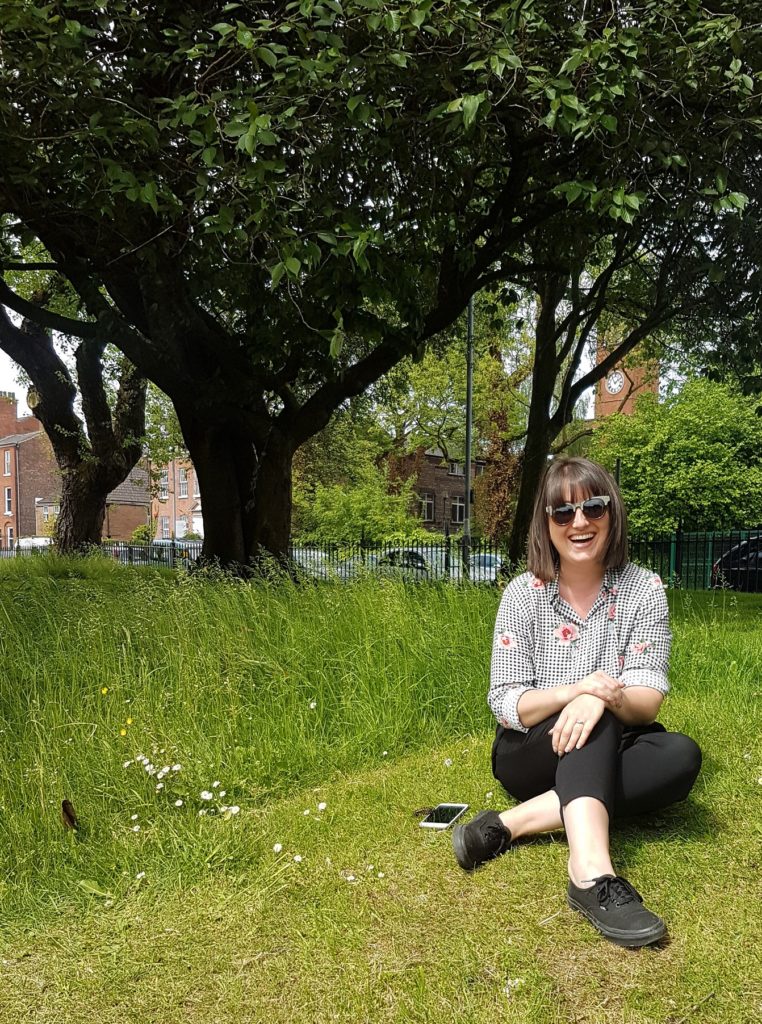 How can you implement these on a budget?
It doesn't have to be all about designer furniture, parquet floors and crittall windows, you can
achieve the latest trends really easily on a budget!
Take the black and white geometric cushion that we've used in this shot, this is from an amazing
selection of new products from the PATTERNITY + John Lewis range and costs £45. Accessories are
a really easy and inexpensive way to achieve current trends as you don't need to invest a lot of cash
to get an instant impact. You could pick up similar styles at Sainsburys, H&M and Ikea if you're after an
even lower price point. Updating throws, vases and prints all have the same effect in breathing new
life into a space and they don't need to cost a lot to achieve a look.
Simply painting a wall can give a tired space a quick refresh…painting the alcoves or a chimney
breast for example, can really transform a room. Because you're covering a smaller surface area
compared to all 4 walls I have often done this using tester pots! Try the Dulux tester pots that are
mixed in store – you get a lot of paint for your money so this is very budget friendly!
Lighting is a really key element to a space, but you don't need to invest in really expensive
chandeliers or designer pieces to achieve a bit of luxury. Updating table and floor lamps will change
the dynamic of any room and varied levels of lighting make a space much more atmospheric,
interesting and cosy. Habitat, Oliver Bonas, Wayfair and BHS have brilliant budget friendly and on
trend lighting, and you'd be surprised how close some of them are to the designer pieces we know!
Will they transfer well into Summer/Autumn/Winter, how can people ensure they stay on trend?
Well-crafted stylish pieces have a lifespan way longer than a season's trend. It's important to love
the space you live in and buy items that you have a connection with so there shouldn't be a pressure
to constantly update. I try to have less of a throwaway and more of an organic approach by adding
items I love over time. Saying that these items are definitely transitional. If you want an on-trend
look for summer without replacing the expensive furniture items, simply switch for cushions in a
mixture of hot bright colours and geometric patterns and trade the grey knit blanket for a linen
fuchsia throw.
For me, flowers have a big impact on a look as they obviously change with the seasons so they are
the big teller in an image as to what time of year it is. Include bold bright tropical flowers like
proteas, gladioli, dahlias, grasses and roses.
Where do you gather influence from?
Absolutely everywhere! From films, magazines, apps, books, fashion, colour to new items like a new
tile, a piece of art or a fabulous rug which often becomes the starting point of the scheme.
For this shot, it was all about the Paul Smith Carnival Pale rug for The Rug Company. I can't tell you
how much I LOVE this rug! It says everything about Spring 2018 but is such an amazing piece that it
will become a classic and transcend through the seasons and the years.
Why do you love creating interiors in CGI?
If CGIs visualise the unbuilt world then it is my job to make that world look as stunning as possible. I
approach all projects as though I am creating the real space and take everything into consideration
from the architecture of the building, the target market, current trends, the brief. I love building a
profile and story around the people that are going to be in that space, where they would buy their
furniture, what they eat and what they'd like to read.
I have a passion for interior design and I love that in a lot of cases with CGI, boundaries can be
limitless (depending on the brief of course!) so it's an opportunity for my imagination to run wild
and express my innermost interior desires! The process is really exciting and it's an amazing feeling
when I see my vision in CGI form. Working with very talented 3D artists is very inspiring and it's a
wonderful achievement for the team at the end when the client loves the shot.
Take a look at some of our other interior shots on Instagram!