Every reservation matters.

Our objective is to make sure you have the content you need to achieve the maximum possible results. After all, if people are reserving plots why not your plots!
Your virtual showhome options includes a range of content at varying price points, all designed to help your audience imagine making your apartment or house, their home. These include; 360 virtual property tours, creative CGI and property animations such as full site fly-throughs

CGI Virtual Property Tours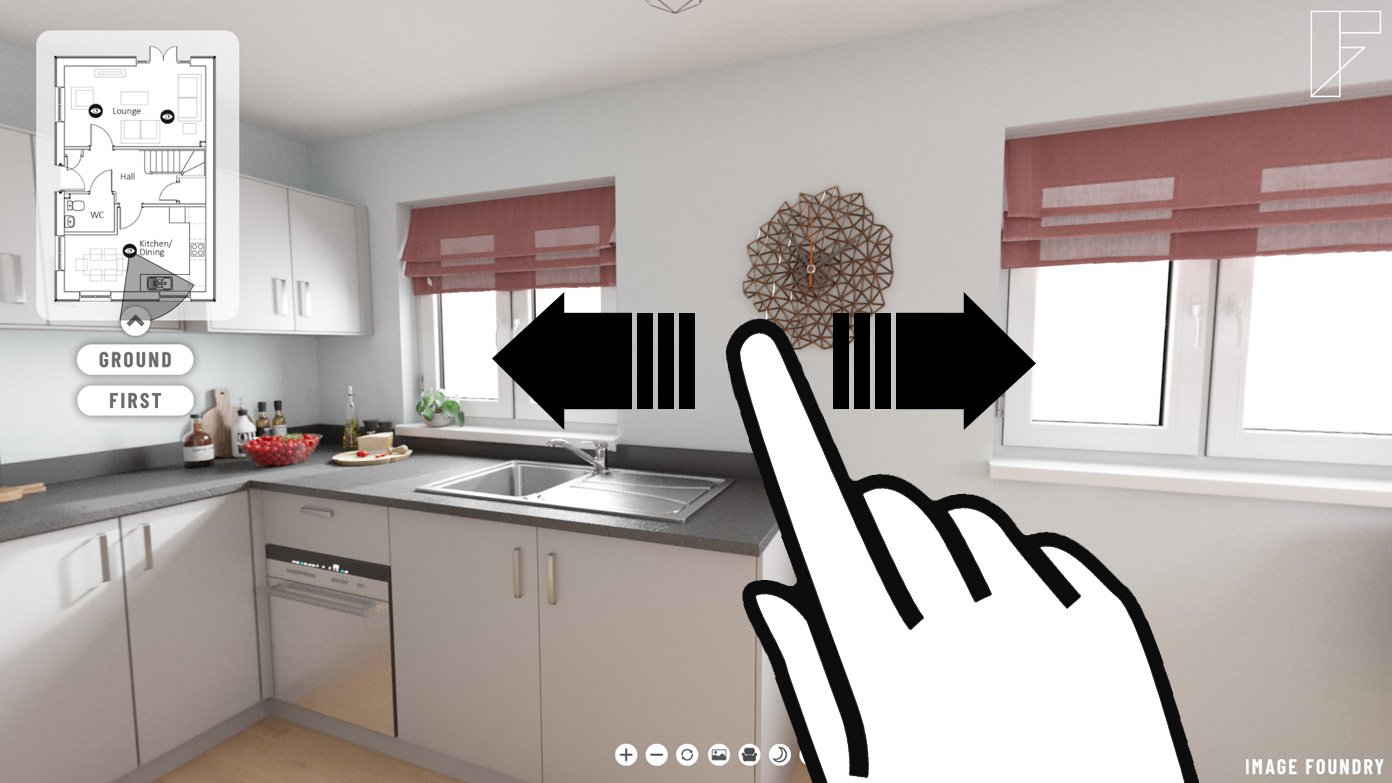 Virtual property tours result in increased traffic, time on site and viewings. Is it any wonder when effectively, your show home is open 24/7, within easy access for every single home buyer in, or out of the country!
Our tours allow your customers to explore through the property as if they were there in person, by using keyboard, mouse or finger on any smartphone, tablet or PC. It really couldn't be simpler.
360 property tours can be of your site and/or house types of your choosing. They are the best way possible of getting your customers to explore your product, without actually getting them on site.
Our CGI virtual property tours features include;
· Intuitive navigation
· 2D/3D floor plans
· Information points
· The ability to "reskin" in your or clients branding
· Suitable for embedding in HTML page including WordPress websites
· Optional extras such as viewing spaces unfurnished
The tours are easy to install on your own website, intuitive for your customers to use, and designed to support your sales messages. You can expect increased traffic and customer engagement.
Going beyond the industry standard house type and street scene CGI means creating thoughtful content that really whets your audience's appetite. This includes beautiful lifestyle shots, interior and exterior as well as alternative lighting such as dusk street scenes etc, that all have a number of benefits;
Memorable
They really stand out in your audiences memory.
Noticeable
They really stand out from the crowd in a competitive market.
Adaptable
They can be used in traditional outlets such as print, web, property portals etc.
Great value
You can really make your marketing pound stretch further than you ever imagined as producing these shots gets you most of the way to having dynamic and interactive content.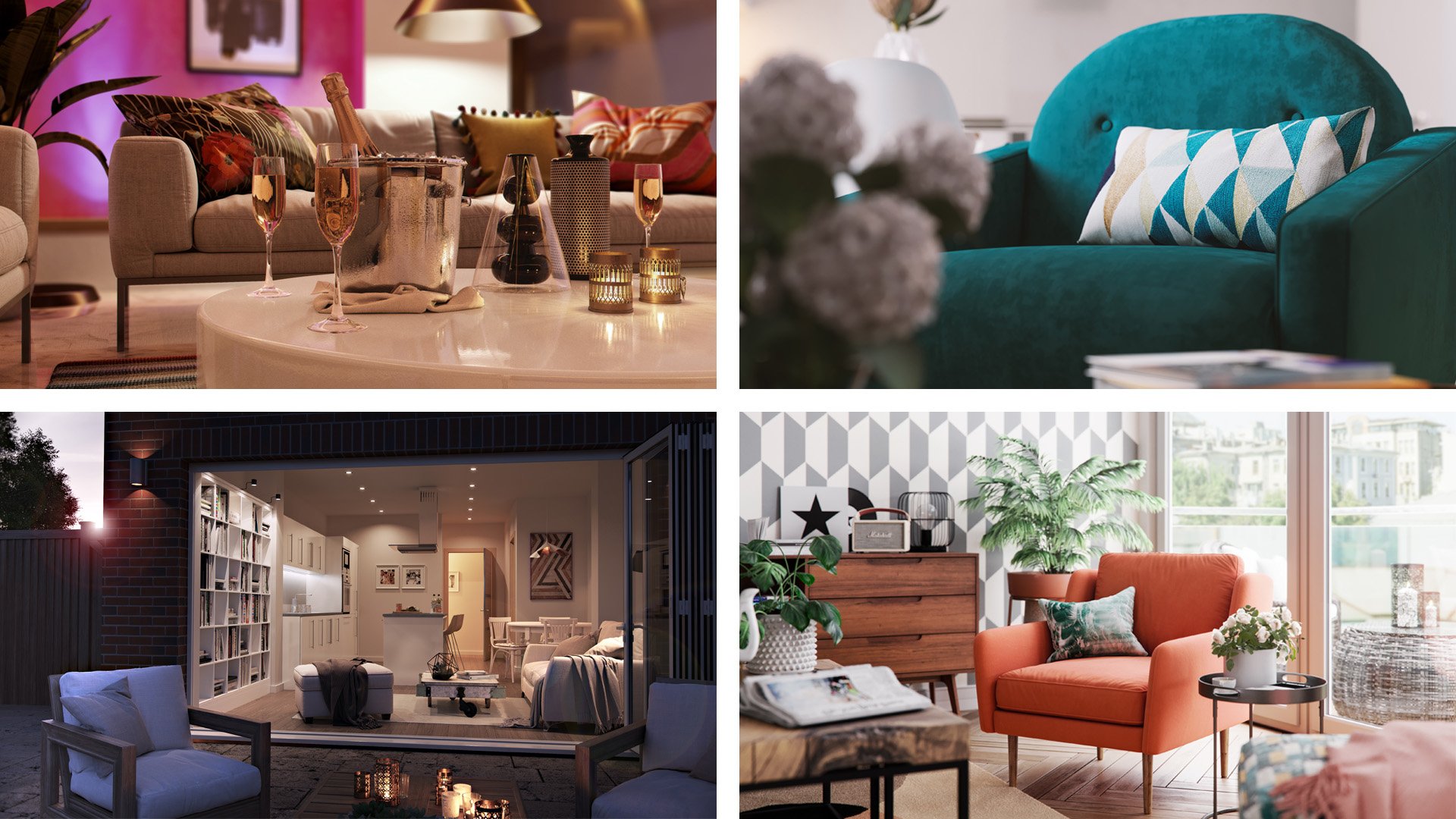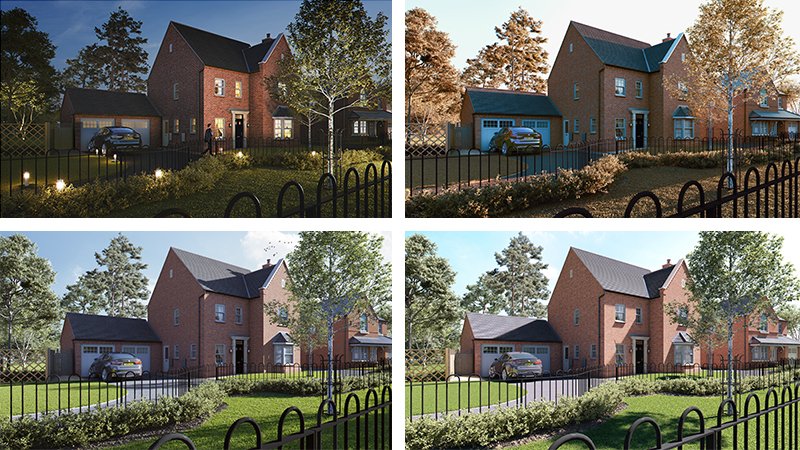 Property Animations
From full site fly-throughs with day-night narratives, to short simple camera pans for social media engagement, property animations come in all shapes and sizes to suit all budgets and purposes;
Fly through animations of your site
These full feature fly throughs become the star attraction in sales centres as every visitor looks to find the plot they're considering. The added bonus is the possibility of creating smaller edits for different audiences and platforms.
Walk through animations of house types
Eye catching walk throughs whet the appetite like no other content. The interior spaces will be styled and designed to appeal to your core audience and more than any other piece of content, this is where viewers turn into home buyers.
Banner animations
Dynamic content on landing pages, micro sites, social media pages immediately grabs customer attention. These short sequences might only be two or three camera pans but the effect they have is striking.
Creative social media edits
Editing simple dynamic content to arm and support your multi channel marketing strategies can amplify your existing presence and ensure you get the most from every piece of content created.
Dynamic Stills
These hybrid still and animated visuals are a steller cost effective option, suitable for most platforms and visually arresting.
Find out more about property animations
For more information or to discuss your requirements in more detail call Alex on +44 (0)161 302 1580