Why Kitchens and Bathrooms Need Less Interior Photography
Back
Alex Goron | 13.06.2018
Ah Summer. The barbecue's been dusted off, the garden is in full bloom, and your other half starts flicking through the Ikea catalogue, looking to bring that summer colour into your kitchen and bathroom.
But while they were wiping away their drool over that obscenely stylish light fitting, it probably escaped their notice that instead of using an interior photographer, a large majority of Ikea's kitchen and bathroom images are actually CGI.
About four years ago, we began working with more and more kitchen and bathroom manufacturers who were shying away from the traditional interior photoshoot approach. Now we're at a point where CGI is becoming the industry norm.
Why? Glad you asked.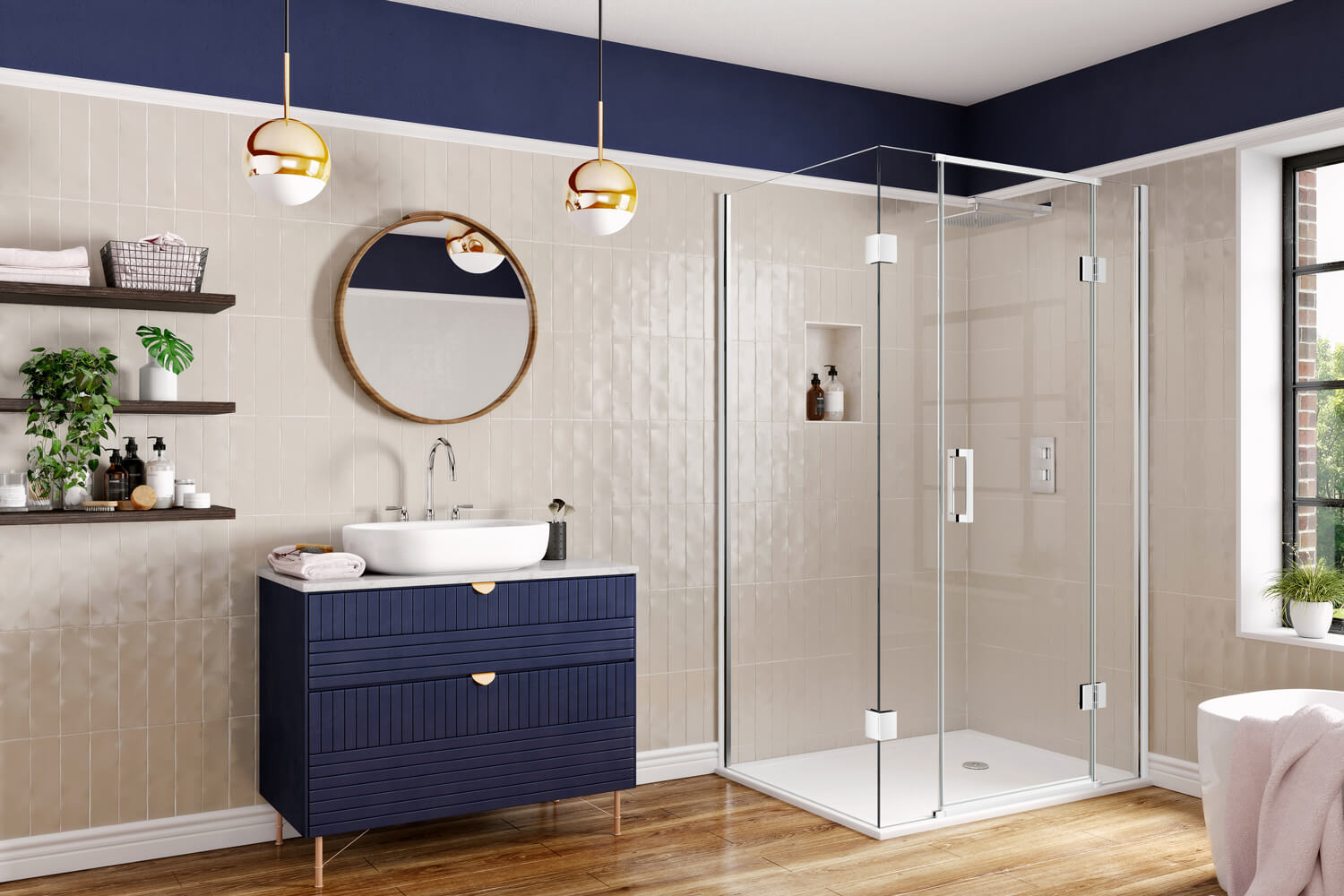 Interior photography – where is the love?
If you think about old-school interior photography, it's a pretty major headache.
A kitchen or bathroom supplier with a new range to promote would need to book a studio, install the product and spend money on a set designer, photographer, props and logistics.
Want to make it look pristine, aspirational and beautifully presented?
That's extra time and money.
Want to feature every style in your product range?
That's a lot of extra time and money. Not to mention the mind-boggling logistics of transporting, installing and dismantling 20 different kitchen styles in a photography studio.
Then, at the end of the shoot, you would often end up having to throw out the product and just hope that the images turned out okay.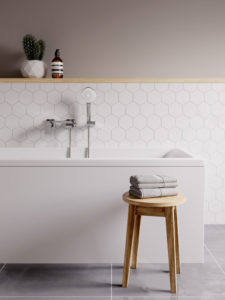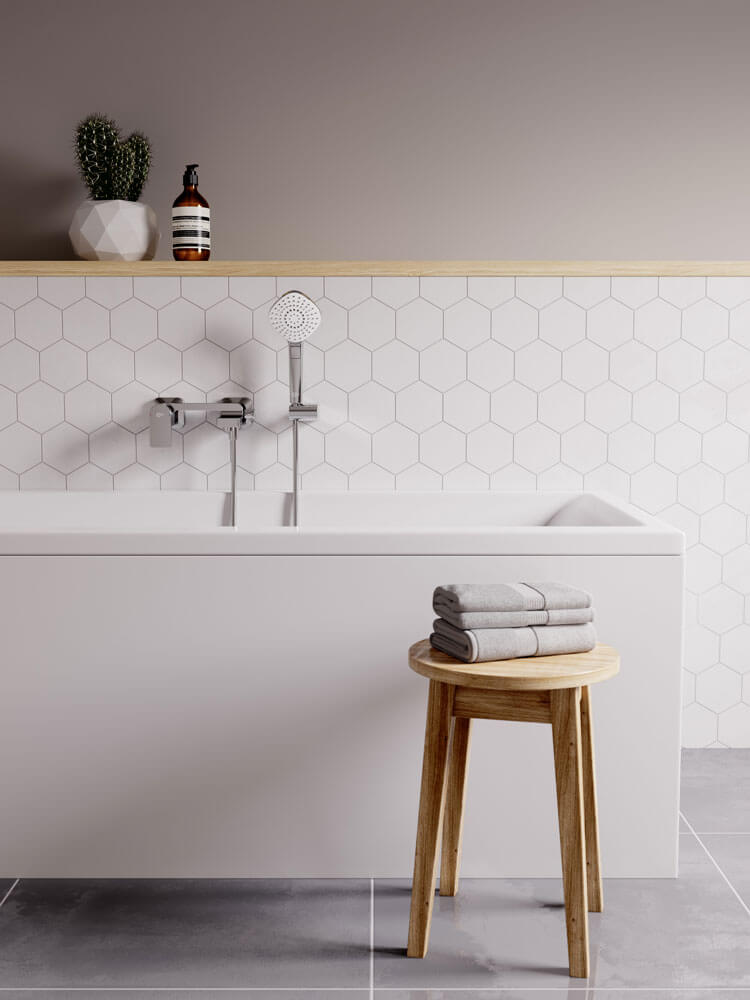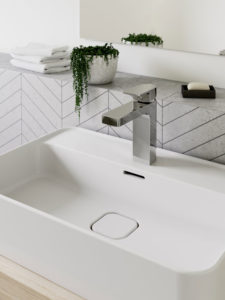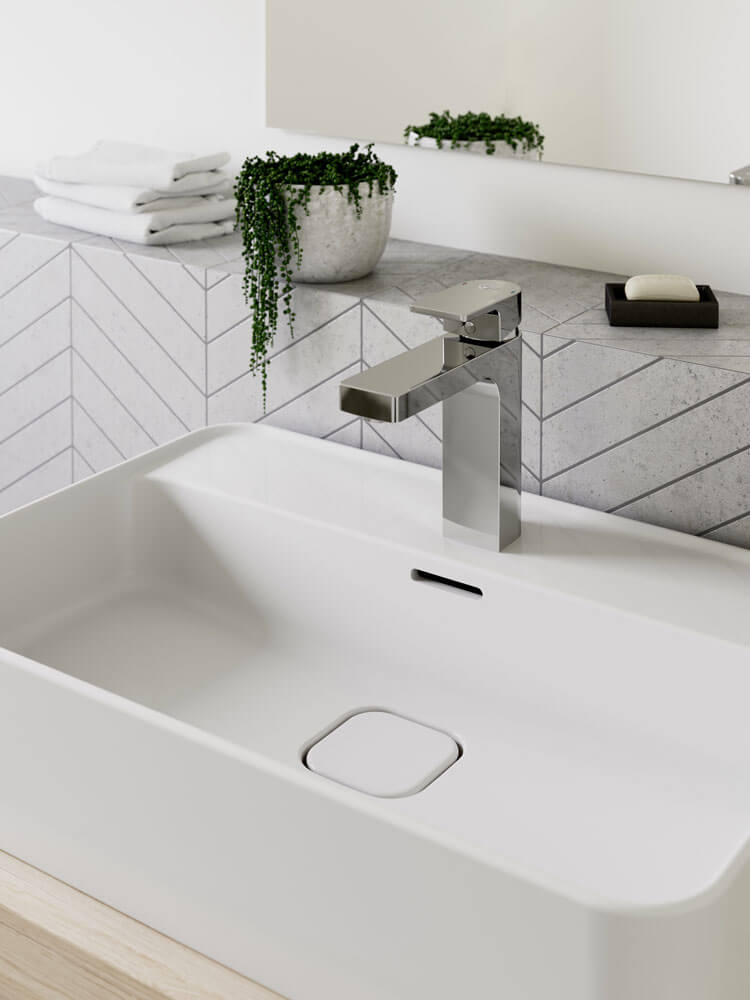 A brave new bathroom. Or kitchen.
The beauty of photorealistic CGI is that it doesn't just solve these problems, it adds several new strings to a marketer's bow as well.
Firstly and most importantly, it's possible to use CGI create a complete range of genuinely breath-taking designs for a fraction of the cost of an interior photo-shoot. Obviously the product is the star of the show, but the things that really breathe life into a kitchen or bathroom lifestyle image are the softer edges: The mood of the lighting. The crisp fruit and freshly-picked flowers brightening up the kitchen. The warm, fluffy towels folded neatly in the bathroom.
The evolution of CGI technology and improvements in technique means that these photorealistic details are now achievable without a light switch being flicked or a flower being picked. And if something's not quite right the first time around, you can simply go back and change it. No product installation needed, no photoshoot to rearrange, no props to send back across town.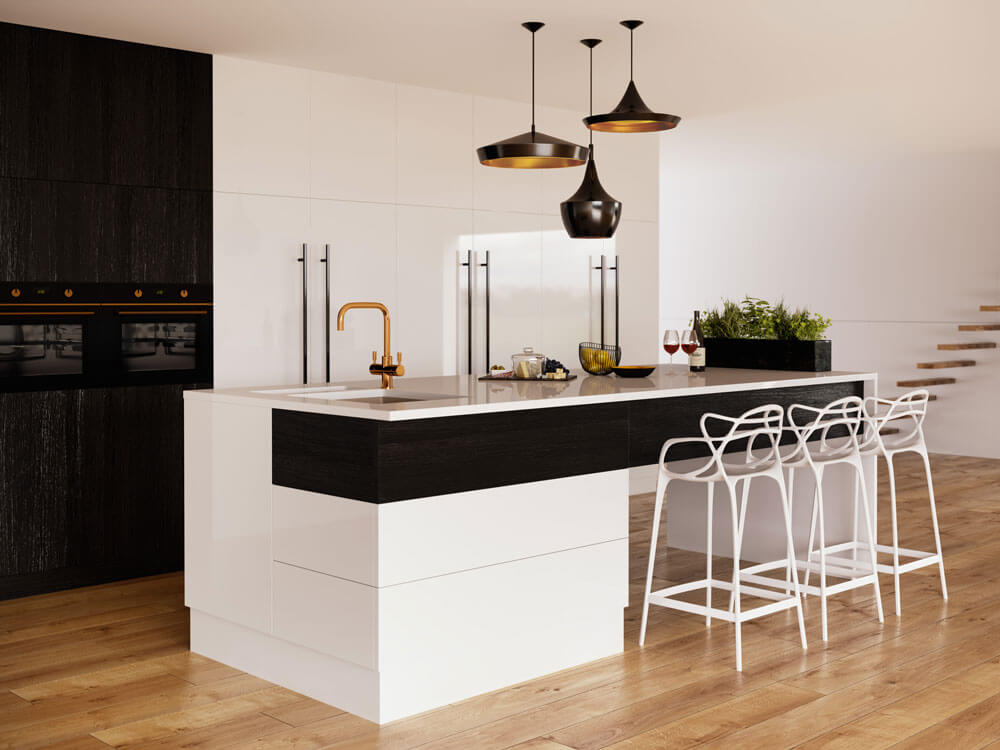 From taps to towels.
One of the most recent advancements helping suppliers make the shift away from photography is 3D scanning.
It's this technology that allows a CGI artist to realistically recreate the small details within soft furnishings that really sell an image to the human eye: the natural crease of a pillow or fold of a towel. Any elements that had organic physical movement used to be difficult to model. Now they are integral to any kitchen or bathroom scene.
There really is no limit to which props you can include. Whether you want affordable Swedish design or a £1 million chandelier from the palace of Versailles, all you need is a clear brief and a good CGI artist and you get exactly what you need emailed to you within a matter of days.
Which brings me to my next point:
Because CGI is a global business, kitchen and bathroom companies are no longer hamstrung by their location. Physical limitations such as proximity to a photography studio or whether there's a single decent interior photographer within travelling distance – well, they just don't exist in the virtual world. It is as simple as going online, finding the best talent and using them, no matter where they're based in reality.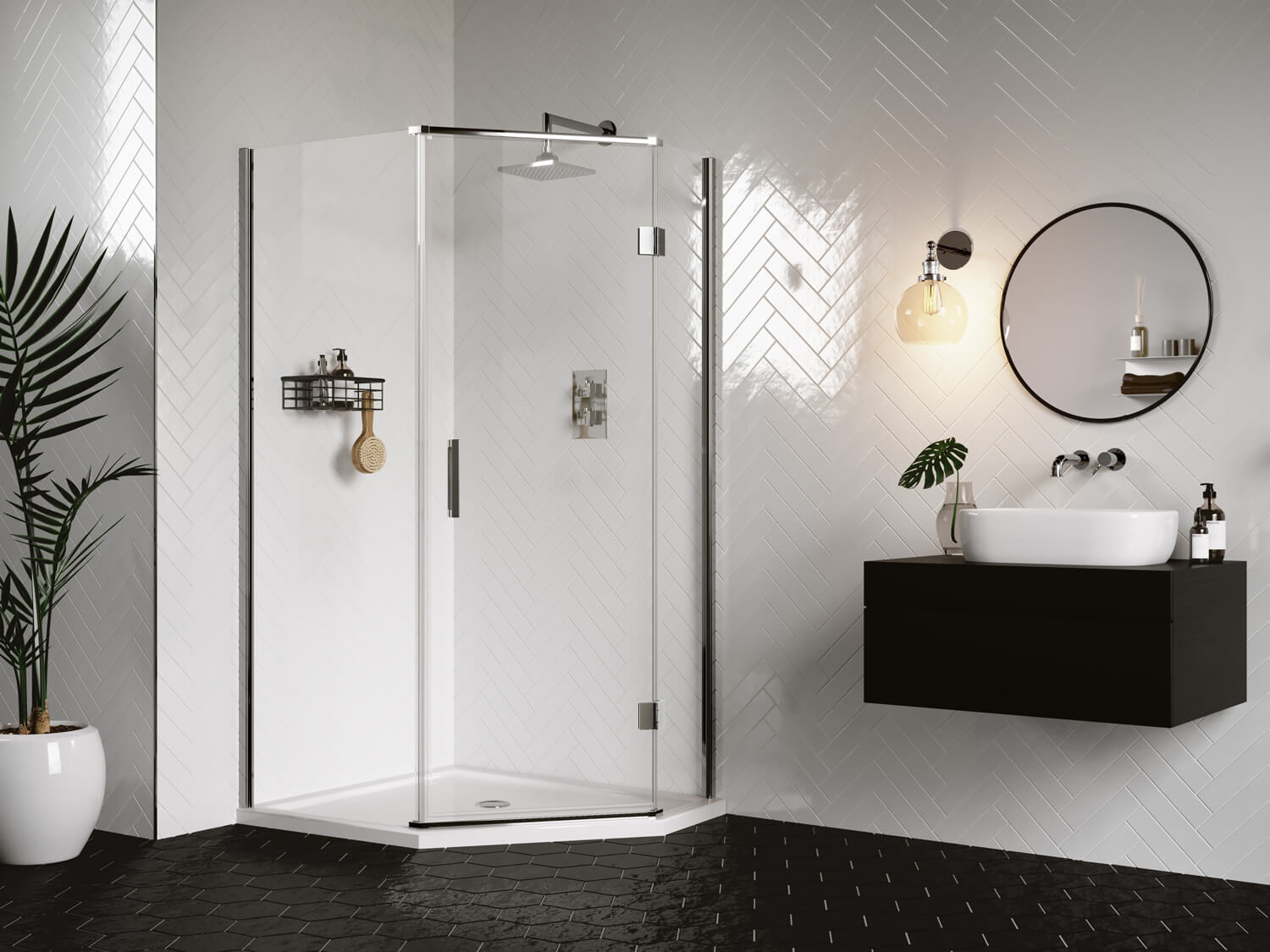 What next?
While CGI has come on by leaps and bounds even in the last few years, there is still more to come.
The next stage in the process will be modelling people using 3D scanning. Where green-screens were once used to insert humans into images, soon it will be a simple handheld device. The trend for CGI will only increase as it becomes more intricate, realistic and accessible to more industries. Without wanting to sound too biased, I think we're approaching a point where any product shot or lifestyle image will soon be produced in the virtual world.
Quite simply it's faster, simpler, more cost-effective and more flexible than the alternative. So the next time your partner's cooing over a Swedish wicker chair or flamboyant bathroom tap, remember that CGI is probably to blame for the incoming dent in your finances.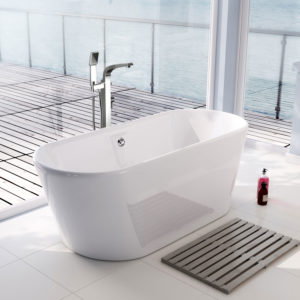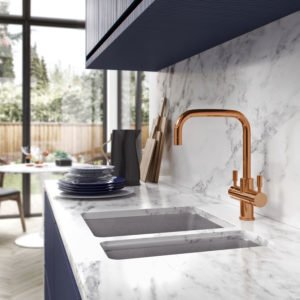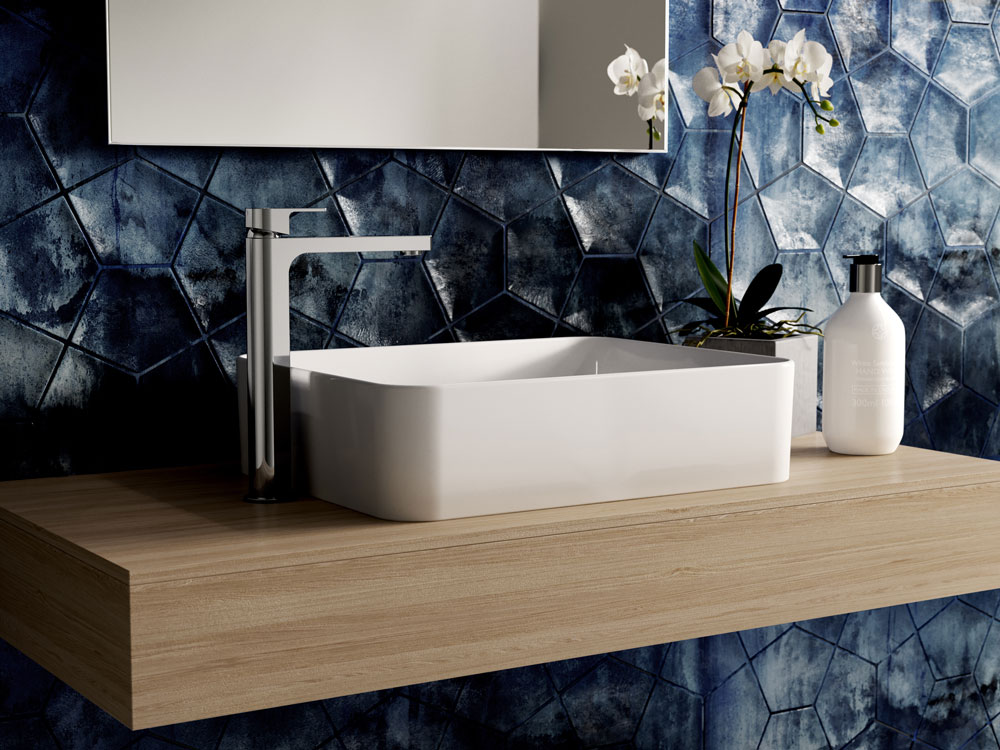 If you love these kitchen and bathroom visualisations, take a look at our Image portfolio for more CGI interiors, or give us a call!