"Boutique Hotel, Colour, Sexy"
Back
Alex Goron | 23.05.2019
Word from the stylist
Our resident Stylist, Laura La Gambina, talks us through the creation of yet another fabulous CGI render.
Some shots just work and this image was a roaring success so lets give you an insight into the process.
The client's brief was for a boutique hotel washroom. The brief for the set of images was to include pops of bright colour and to be quite sexy. This conjured up ideas for a small, yet glamorous space, moodily lit. A space that would really benefit from a rich coloured tile and gold accessories, setting off the products. Which in this case was the sanitary ware.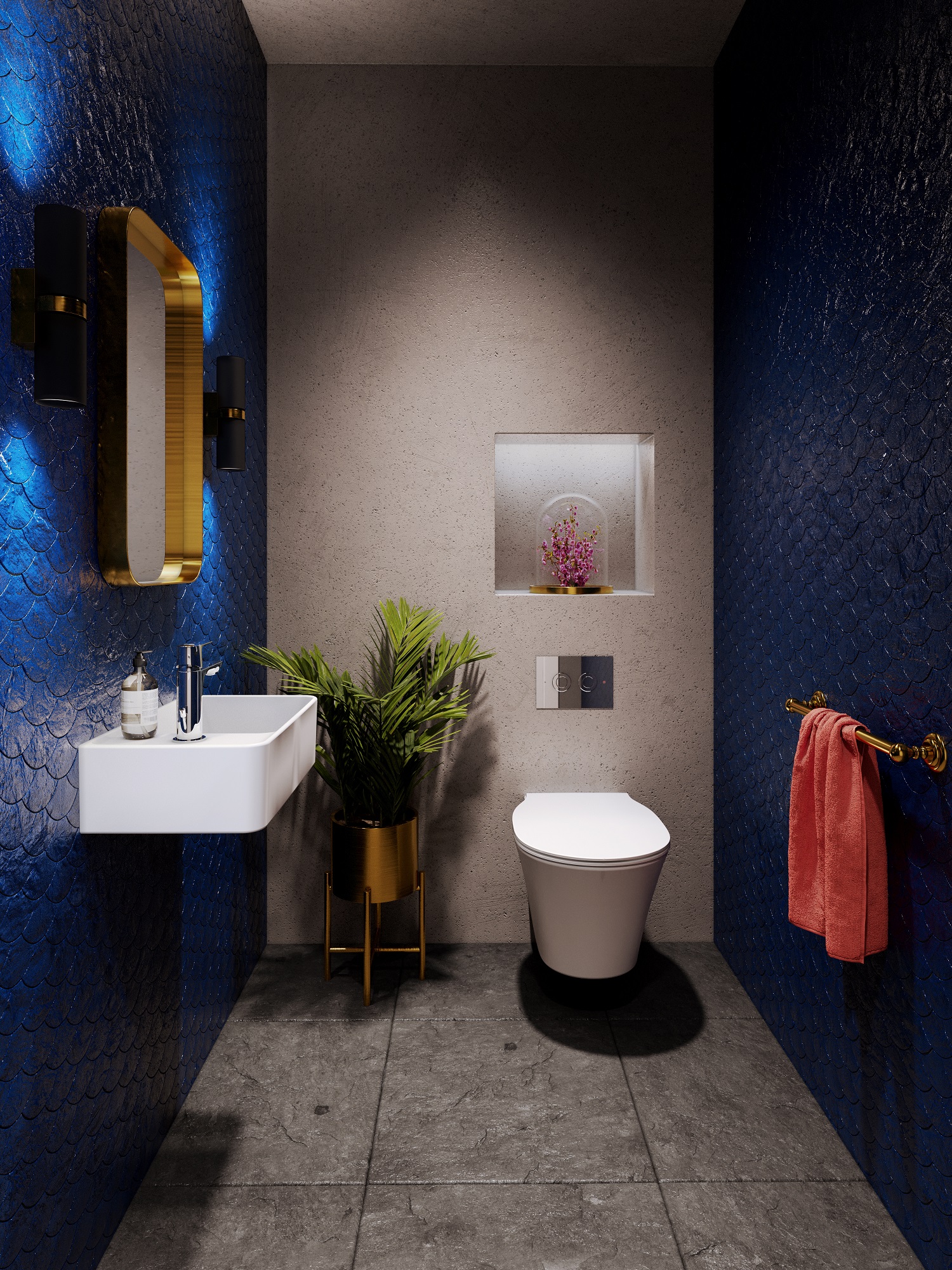 I immediately thought of this rich, bright electric blue tile, which is the 'New Terracotta' tile by Domus Tiles, in the scallop shape. These are the perfect tile for a stylish small space, and really stand out. I paired it with polished concrete on the wall and grey slate on the floor to give the shot an edge. This also catered for another consideration which was keeping these finishes in line with some of other imagery. The shot has to work independently and sit easily next to the other shots in a brochure.

Blue and orange are complementary colours, so this combination works really well and the coral towel really pops against the wall. The gold gives the image its glamour and interesting metallic touches. While the grey gives it the edge and stops the image becoming too feminine.
I asked our artists to really ramp up the moodiness of the lighting to heighten the colours and the metallics.
No Rules
Influence for me comes from everywhere. No strict rules were followed, I just used products that are beautiful in their own right and sit well next to each other to create something inviting and inspiring. The mirror is called the Alana from
made.com
, the wall lights are from Wayfair, the plant pot is from Trouva and the coral towel colour is based on a set from Amara.com
All in all it's a very stylish image, rich in colour and texture and shows of the sanitary ware beautifully